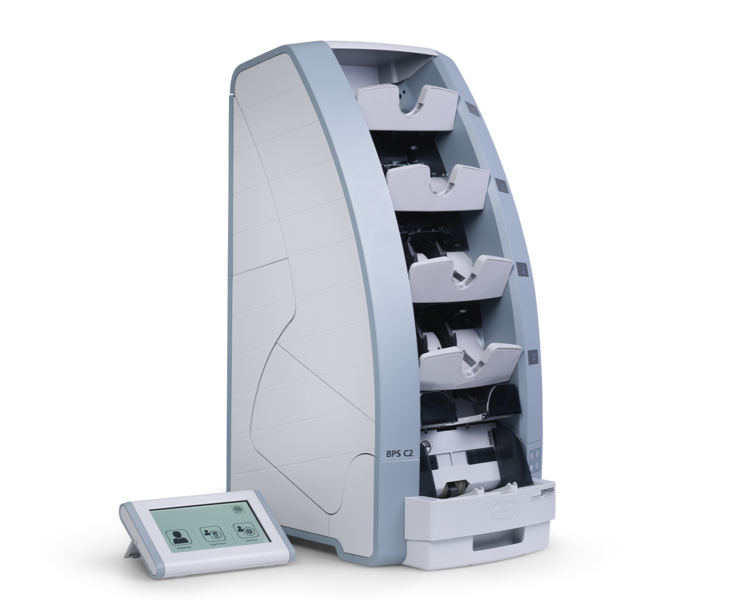 Machines from premium supplier G+D all have authenticity verification and are perfectly suited for the precise counting and checking of Swiss banknotes and foreign currencies.
Machine type G+D BPS C1, which is fitted with a reject compartment for rejected banknotes, can process up to ten currencies. Thanks to its high-quality sensors that can identify serial numbers and read barcodes and a wide variety of processing modes, it is particularly suitable for checking the quality of banknotes, for example to determine whether they are fit for use in cash machines (ATM).
Machines from the G+D BPS C2 high-tech series have a reject compartment and also, depending on their features, two or four storage compartments for the accepted banknotes. This makes them particularly suitable for a wide variety of sorting processes, as well as for quick and efficient tandem processing of different deposits.
Machine type G+D BPS C5 is the non plus ultra in processing large quantities of banknotes. It can verify, count and sort up to 63000 banknotes per hour and be equipped with a maximum of 25 delivery compartments, each holding up to 250 banknotes.
PREMA is also a distributor for the tried-and-tested banknote counting machines from BIMAC. These boast an excellent price-to-performance ratio and ease of use.
Machine type BIMAC B-666, which is fitted with a reject compartment, enables the counting, checking, bundling, sorting, orientation and head-head placement of mixed banknotes. All functions are available for CHF, EURO, USD, GBP and JPY.
The basic BIMAC B-600 model, which is without authenticity verification, enables the quick and reliable counting of banknotes, sorted according to denomination, or other bills.
The PREMA Cash Handling Systems range of banknote handling machines also includes tried-and-tested vacuum counting systems, for use at table or standing height, for the lightning-fast counting of bundled banknotes.