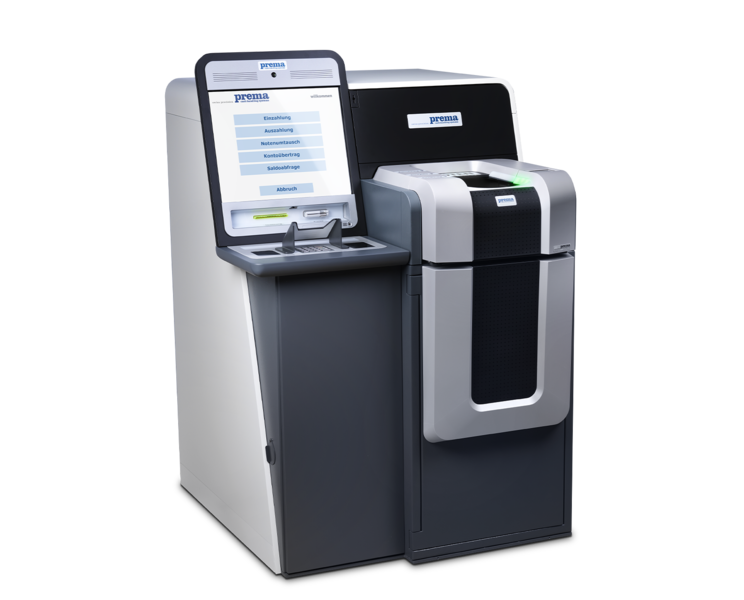 The PREMA SelfCashpro has now made its way to Switzerland and is taking it by storm! Thanks to this user-friendly solution, customers can carry out standard over-the-counter transactions themselves for the first time. This revolutionary concept frees up highly skilled bank staff to focus on giving advice while allowing customers to continue accessing the usual services they expect from their bank.
With a large 19" touchscreen display and an extremely user-friendly interface with video assistance, the PREMA SelfCashpro is designed to enable all private and commercial bank customers to process over-the-counter transactions. These include, in particular, making deposits and withdrawals in CHF and EUR banknotes, converting CHF and EUR notes into larger or smaller denominations, checking balances and account transfers.
As an assisted self-service device, the PREMA SelfCashpro is intended to be placed in the bank's reception area, where it can easily be fixed to the floor.
The PREMA SelfCashpro boasts a very flexible online connection to the counter application, which can be configured in line with the requirements of each individual bank. The device is managed, monitored, emptied and filled using a specially developed manager tool.
The PREMA SelfCashpro can count and check up to 24 different varieties of banknote extremely quickly. It stores the banknotes securely in the safe, which contains 12 freely configurable roll containers that can hold 400-600 notes each. Deposits can be made in one or several bundles of up to 200 notes. Rejected bank notes are ejected into a special reject compartment. Banknotes are issued based on a recycling process and at a speed of up to eight notes per second.
PREMA SelfCashpro Extended
The customer-operated self-service device for notes and coins – counter automation for the bank of the future.